Repairs
As an approved Bosch Car Service Centre pretty much all our repairs are carried out in house. We provide a full range of repair services as you would expect from a garage of long standing such as ourselves and take pride in the fact we will service and repair most makes and models of cars and light commercial vehicles.
We provide the complete garage repair service from clutch replacement, major engine and gearbox repairs, through to cam belt replacement, steering, suspension, brakes and auto electrical repairs and indeed just about anything that you would expect, from a garage that has over 50 years experience in motor vehicle repair.
Our bodyshop also providing excellent services from car valeting to accident repair or refinishing work. Such as partial or full resprays.
We are not fazed by challenging or difficult repairs and have invested heavily over the years to ensure we have the necessary equipment for today's modern vehicles.
The business is split into four key areas these are
Service and Repair Including MOT Testing.
Fully Equipped Body Shop.
Complete Vehicle Diagnosis and Engine Tuning
Light and Heavy Vehicle Recovery
Combined together, will give you the best advice, service and attention whilst your vehicle is in our hands...click to view gallery
"Weldbank Garage
..all your repairs under one roof"
Training has always been a fundamental part of the way we work and is an essential process in the efficient running of our workshops.
Qualifications gained over the years include:
City and Guilds Institute in Mechanical and Body Repair read more
Bosch Master Technician Programme read more
IMI (Institute of the Motor Industry) read more
IRTE (Institute of Road Transport Engineers) read more
MSOE (Member of the Society of Operational Engineers) read more
We are also members of the following:
Bosch Car Service Network (BCS) read more
Retail Motor Industry (RMI) read more
Association of Vehicle Recovery Operators (AVRO) read more
Good Garage Scheme (GGS) read more
Weldbank Garage are now registered members of the Good Garage Scheme.
The GoodGarageScheme.com
The aim of the scheme is to improve the standards of the garage repair industry and in turn ensures the customer gets a fair deal. All members of the Good Garage Scheme abide by the mandatory Code of Conduct and are committed to ensure they give a good value for money to their customers. When having your car serviced by a Good Garage Scheme registered member, you can expect your garage to do the following.
Carry out your service incorporating the industry standard service checklist.
Present you with a copy of the completed checklist.
Include products that remove internal engine contamination as part of your regular service.
Explain what a service includes and agree a price.
Provide a contamination removal guarantee.
Supply a service wallet and service information.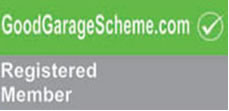 Good garage scheme registered members are regularly visited by their team to ensure they carry out all the above.
Environmental Statement
All products such as oil, oil filters, aerosols, bodyshop paint and waste materials, brake fluid, antifreeze, batteries, tyres, contaminated fuel and scrap metals are disposed of, or recycled of in the correct manner in accordance with the environment agency standards.
New...

Text service

We all have busy lives.
If we see anything that is likely to cause you problems in the future, we will not only advise you on the day, but will forward a text reminder (could be any amount of time in advance) to keep you aware of the work required and inform you that is now time to be rechecked, or repaired so you get the best mileage possible from items such as tyres or brakes etc and allows you to focus on other things and not your car!

...First for service